Are you interested in European integration? Do you lack knowledge about the EU, the challenges it faces and the direction of its development? Do you want to draw attention to issues that are significant for the future of Montenegro in the EU?
You are at the right place because the Institute Alternative begins with the first research phase of the project "You4EU – Citizen Participation 2.0", which aims to bring together citizens and decision makers at the national and European Union level, as well as to encourage citizen involvement in the EU-related debates.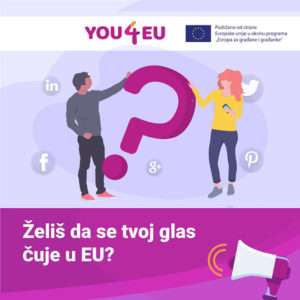 During December 2018 and January 2019, you will have the opportunity to pose questions about current issues to the decision makers at the level of Montenegro and the EU on Facebook and Twitter.
After collecting your questions, we will develop a questionnaire that will be forwarded to the relevant decision-makers in Montenegro and the EU during the second phase of the research in February 2019. This questionnaire will help us to get answers to your questions and to draw attention of decision makers to topics that are important to citizens.
Your questions and the answers we receive will serve as the basis for drafting the document "50 key issues for the future of the European Union", due to be presented in late 2019 at the headquarters of the European Union, Brussels. Our partner organisations from Serbia, Croatia and Slovenia will participate in drafting this document, and they will also conduct the same research in their countries.
Project "You4EU – Citizen participation 2.0" is being implemented by Institute Alternative, in partnership with Belgrade Open School (Serbia), GONG (Croatia), PINA (Slovenia) and Access Info Europe (Spain). This project is funded  by the European Union, within the  programme Europe for citizens.