Majority of citizens are not informed about public debates organized by public administration, while just over a quarter of citizens have heard about the e-government portal.
Results of the public opinion survey, conducted by IPSOS agency for the purpose of IA, point out that only 6% of citizens have used E-government portal, which should enable electronic public service delivery.
This portal should also be one of channels for enabling better citizens'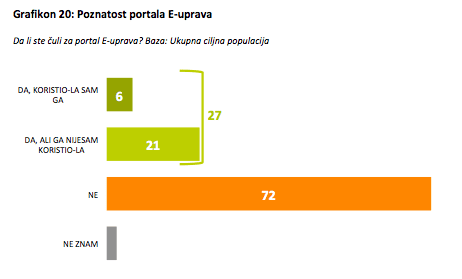 participation in decision making. However, taking public debates into consideration, as one of the main tools of citizens' participation, results are far from satisfactory
Great majority of citizens are not informed about public debates – 58%, 38% of citizens are partly informed, while only 4% of them is well informed.
The level of participation in the debates of citizens who are informed (42%) is low – only 3% of citizens have taken part in a debate.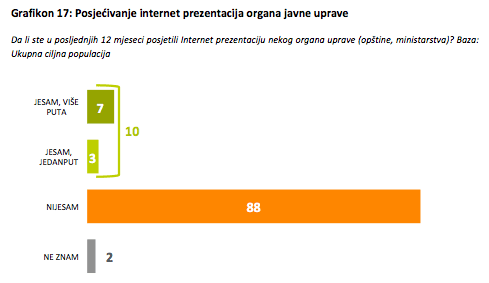 Every tenth citizen has visited the website of a public administration body (10%) over the past 12 months, mostly several times. About half of the citizens who visited a public administration website agree that the information is understandable (52%), that the presentations contain all the necessary information (49%) and is easy to find (46%).
Small number of citizens is not content with following features of the internet presentation: 15% with understanding, 24% with availability and 23% with visibility. However, citizens' perception of the regular update of internet presentations differs: 31% of citizens are satisfied with the level of update, while 26% of citizens are not.
Data collection for the survey lasted from 10th until 16th February 2017. Within this field work, 1.027 adult citizens of Montenegro were surveyed.
The project "Civil Society for Good Governance: To Act and Account!" is implemented by Institute Alternative in cooperation with the Center for Investigative Journalism and NGOs Bonum, Natura and New Horizon, with the support of the European Union.
Follow mojauprava.me for more information!
Institute Alternative team