INSTITUTE ALTERNATIVE
announces
Call for applications for participants of the Fifth Generation of
PUBLIC POLICY SCHOOL
The School aims at providing participants with theoretical and practical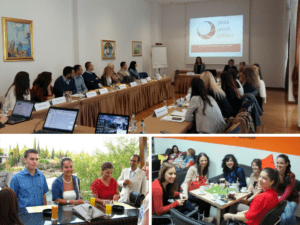 knowledge about public policies, their creation and improvement. During the three-month long programme, participants will have the opportunity to learn about the key aspects of creation, analysis, implementation and monitoring of public policies. We will also speak about the anti-corruption policies, budgeting, the process of policy-making in the Montenegrin public administration, the role of think tanks in public policy, as well as the role of state and non-state actors in policy-making at the EU level.
The School is implemented through five modules consisting of a series of lectures and practical work. Lecturers are experts in public policy from the county and the region – professors from universities in Zagreb, Belgrade and Podgorica, representatives of state institutions and independent research centers. The programme is intended for employees of the state administration, local self-governments, the Parliamentary Service, NGOs, unions, the media, political parties, as well as to postgraduate students of social sciences.
To successfully apply for our programme "Public Policy School – V Generation", please send:
a detailed Curriculum Vitae (CV)
a brief cover letter
to our e-mail info@institut-alternativa.org by Thursday 6 October 2016.
Lectures will be held in Podgorica and Budva. For the selected participants, the programme is free of charge. The participants are bound by contract to attend no less than 80% of the programme. Upon successful completion, awarding of diplomas will be organized.
The project "Public Policy School – V Generation" is implemented with the financial support of the Commission for Allocation of Revenue from Games of Chance and Think Tank Fund – Open Society Foundation.
Indicative Agenda is available here (in Montenegrin only).

For more details, please read the information package that is available here (in Montenegrin only).