NGOs Institute Alternative (IA) and Human Rights Action (HRA) provide free legal assistance to anyone who believes that their rights to peaceful assembly – guaranteed by the International Covenant on Civil and Political Rights, European Convention on Human Rights, Constitution of Montenegro and the Law on Public Meetings and Public Events and other laws – have been violated. Free legal aid is provided as part of the project Voice Your Rights! – Expanding Space for Free Assemblies funded by the European Union.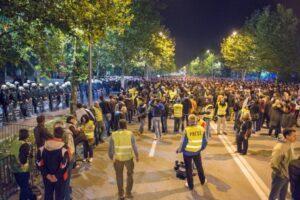 If you feel your rights to public assembly are at stake, and need legal advice, opinion or representation, HRA can provide you with free legal assistance, including legal counselling, filing and court representation, with the involvement of the attorney at law if needed.
We also provide advice on obligations of organisers of public assemblies including on how to announce the gathering.
For any additional information on how to report a violation, you can contact us by phone at +382 20/232-348, from 8am to 5pm, or via email at stefan@hraction.org.
Voice Your Rights! – Expanding Space for Free Assemblies is a project implemented by Institute Alternative, in partnership with the Human Rights Action, and supported by the European Union through the Instrument for Democracy and Human Rights under the Montenegro Program 2018.

The overall objective of the project is to improve the environment for the exercise of the right to freedom of assembly by contributing to the development of democracy and greater respect for fundamental human rights and freedoms.

Through this project, IA and HRA wish to contribute to combating the alarming trend of narrowing room for civic participation in Montenegro by strengthening the capacity of citizens, civil society organizations and institutions to exercise the right to peaceful assembly, and monitoring of the application of that right.