Institute alternative (IA) concluded on May 29, within WeBER project, agreements with five Montenegrin NGOs which will monitor public administration reform at the local level in the following period.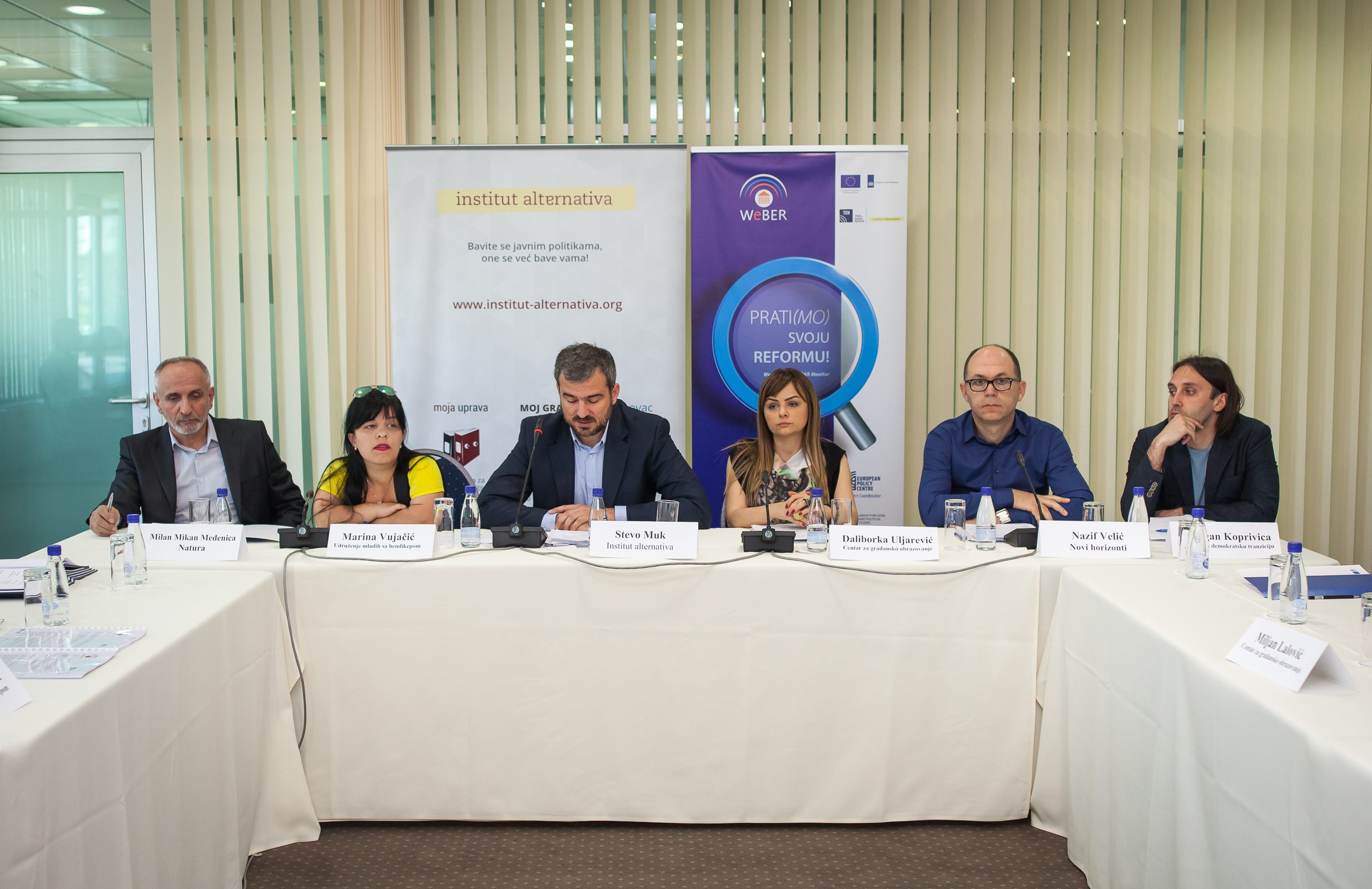 We concluded agreements with Centre for Civic Education (CCE), Association of Youth with Disabilities (UMHCG) and Centre for Democratic Transition (CDT) from Podgorica, NGO Natura from Kolašin and NGO New Horizon from Ulcinj.
"The overall goal of WeBER and the grant scheme within it, is to increase the relevance, participation and capacity of civil society organizations (CSOs) and media in the Western Balkans (WB) to advocate for and influence the design and implementation of public administration reform (PAR)", said Stevo Muk, President of the Managing Board of Institute Alternative.
He explained that, in the long run, WeBER should help prepare and empower the civil society in the WB to continue pushing for EU membership compliant PARs in these countries once they accede the EU and external EU conditionality is no longer the driving force behind these reforms.
Ten Montenegrin CSOs applied for the grants, out of which, Selection Committee composed also of other WeBER member organisation, chose the best five applications.
"These five projects are aimed at strengthening transparency and accountability of local self-governments, particularly in terms of improving implementation of freedom of information mechanism, public participation in development and coordination of public policy and public finance management at the local level", added Muk.
Directors of CSOs which were awarded WeBER grant, presented their projects.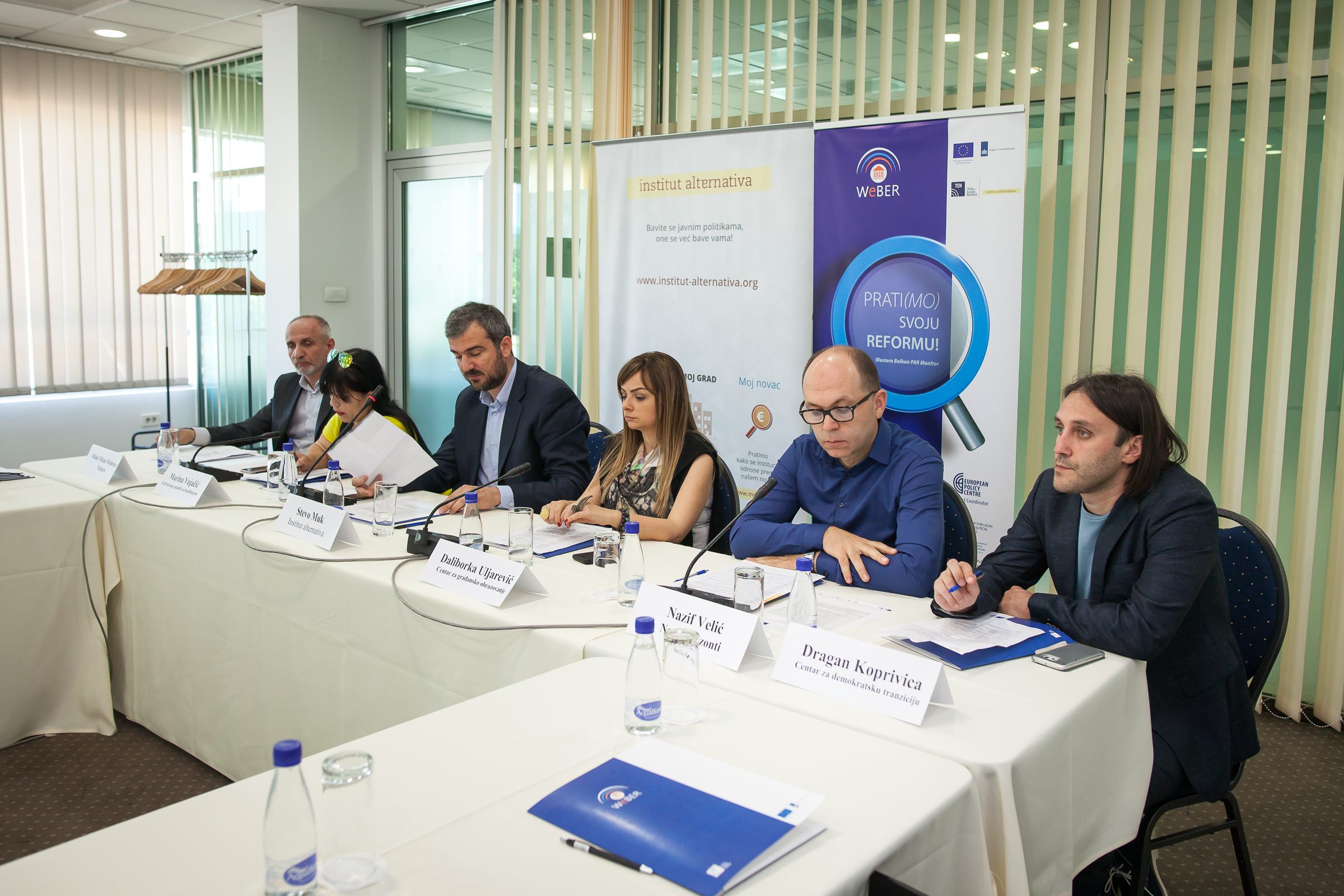 Daliborka Uljarević, Executive Director of Centre for Civic Education, presented a project "I have the right to know! – Accountable municipalities in citizens' service", aimed at strengthening cooperation between NGO sector and local media for the better efficiency in implementation of Law on Free Access to Information in the municipalities of Kotor, Podgorica and Pljevlja.
"Existing regulation guarantees citizens' right to information. However, in practice, local self-governments are still not showing satisfying level of accountability and transparency in their work. This makes citizens' lives more complicated and reform processes more difficult, but also questions their legitimacy", said Uljarević.
Marina Vujačić, Executive Director of Association of Youth with Disabilities, presented project "Ensure Resources for Inclusion", aimed at improving conditions for the participation of PWDs and their organizations in the planning, development, implementation and monitoring of the Annual Budget of the Capital Podgorica.
"The budget of the Capital do not include expenditures / expenses for the realisation of respect for the OSI rights, or at least not to the extent necessary for the implementation of adopted acts, nor these acts contain an analysis of the necessary budget for their implementation".
Nazif Velić, Executive Director of NGO New Horizon from Ulcinj, said that the project "Proactive Local Government and citizens' participation" is focused on the principle of accountability which represents of the key pillars of public administration reform.
"Application of this principle is mostly reflected in right to free access to information of public interest as well as in practice of proactively publishing information in possession of state authorities", said Velić.
During the implementation of the project, NGO New Horizon will pay special attention to monitoring of publishing information in possession of municipality of Ulcinj in Albanian language, which is a language in official use in municipality of Ulcinj.
The project "With cooperation and dialogue to better local governance", which NGO Natura will be implementing in Municipality of Kolašin, was presented by Milan Mikan Medenica, Executive Director:
"Despite changes that recently happened in our municipality, lack of understanding of the process of public administration reform is still very evident, both among the local employees who mostly relate this process with the loss of workplaces and among citizens who do not see their own role within it. That is why the aim of the project we will be implementing is to contribute to increasing the level of citizen participation in the process of public administration reform at the local level, in municipality of Kolašin, improved cooperation of NGOs and the media with the local administration, as well as increased knowledge of the local administration about citizens' needs."
Dragan Koprivica, Executive Director of the Centre for Democratic Transition, while presenting the project "Managing for results in local self-governments", which will be implemented in Municipality of Nikšić and Municipality of Kotor, explained that local policy is being created only based on what current local administration thinks is good, without consulting the citizens.
Check out TV Vijesti feature story on today's event:
Public broadcasting service (RTCG) story:
The project is aimed at improving transparency, accountability and efficiency of these two local self – governments through increased level of citizens' participation in developing public policy of their direct concern and in controlling their implementation", said Koprivica.
WeBER – Western Balkans Enabling Project for Civil Society Monitoring of Public Administration Reform is a regional three-year project, financially supported by European Union and Kingdom of Netherlands.