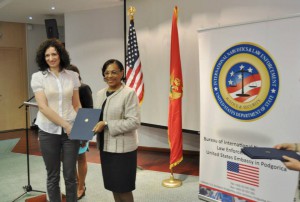 Institute Alternative is one of 12 organizations whose project is supported by the U.S. Embassy in Montenegro under the "Criminal Justice Civil Society Program" (CJCSP). Grants were formally awarded to civil society representatives by the U.S. Ambassador to Montenegro Sue K. Brown.
Our project is entitled "Strengthening inter-institutional cooperation in the criminal justice system" and focuses on research of four components relating to the criminal law:
(i) comparative models of institutional and legal framework for the fight against corruption and organized crime;

(ii) budget planning of the police and prosecutors;

(iii) the contents and dynamics of making the annual reports of the State Prosecutor's Office and the Ministry of Interior – Police Administration;

(iv) cooperation between local prosecutors and local police in two selected municipalities.
The grants fall under the "Criminal Justice Civil Society Program" a program funded by the U.S. State Department's Bureau of International Narcotics and Law Enforcement Affairs (INL), administered by East West Management Institute and World ORT, Inc.