The Montenegrin Police Directorate's data shows that there are 179 unassigned police officers.
But, according to data from the Institute Alternative, a think-tank from Montenegro, the number is higher, close to 300.
A police officer in Montenegro does not have to work but can still receive a monthly paycheck—if he or she is unassigned. The reasons for this can be different: vanity, revanchism, not agreeing to follow meaningless demands from the managers without questions asked, "going off the correct political course", and sometimes for working strictly by the rules and procedures.
Some of the unassigned officers that ended up in police service "accidentally". Some of them are those not held in high esteem by powers that be, no matter how useful their work is to the police. Also, for some unassigned officers, it is unclear if they are police officers or criminals, because they sometimes get high positions within the police or are sent to "vacation" as fast as possible. Those unassigned return to work when someone close to them becomes a police manager.
All of this was told by police employees who are or have been in similar situation to daily "Vijesti". Competent and useful, useless and incompetent, honest and criminals, all of them are receiving paychecks waiting for the new schedule.
The average salary for the most of unassigned police officers in Montenegro is 462€. Twelve unassigned police managers receive 710€ per month. This costs taxpayers from 130.000 to around 200.000€ monthly, depending if you trust data from the Police Directorate or Institute Alternative.
"There is no proposal from Police Directorate's managers for assignment of 129 out of 179 unassigned officers. The right solution will be found for police scheduling while taking into account their experience and positions that would suit their education. We are also waiting for the new Law on Internal Affairs which should separate position from vocation", explained the representative from the Ministry of Interior for "Vijesti".
The rest are not coming to work because of sick leave or for being suspended.
The representatives of the Ministry of Interior explained the rights and obligations of those unassigned police officers. Namely, these are based on the last valid scheduling decisions which are applicable for the officers until they receive a new decision that is aligned with conditions from current regulations.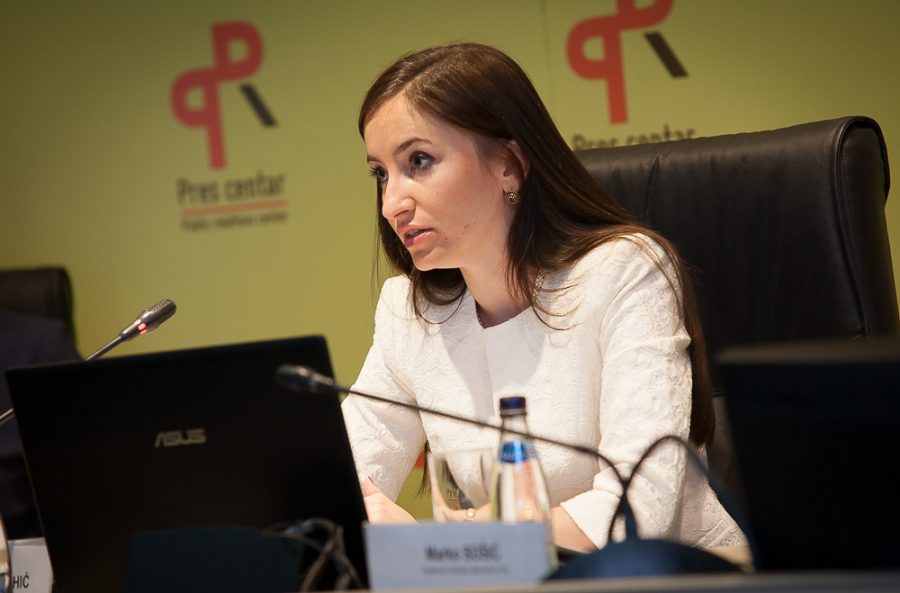 "The publication of official data on unassigned police officers in the Ministry of Interior and Police Directorate started in 2013, and the State Audit Institution confirmed this in 2015. But, until now, nothing has been done to solve the issue. According to data from Institute Alternative, there are now almost 300 unassigned officers in the police", said public policy researcher at Institute Alternative Dina Bajramspahić to Vijesti.
Bajramspahić explained that the Law on Civil Servants stipulates that every state authority employee needs to have a decision on the appointment to a specific position inside that institution. There is no deadline for determining the position, she said, or procedures if the position is never assigned to the civil servant.
"It is one of those situations that are not legally regulated in comparative practice because no one else even had in mind that such a situation could ever exist", Bajramspahić emphasized.
This practice became especially widespread in the police as a consequence of several reasons that are related to the economic and social situation in the country, Bajramspahić added.
"A number of employees were admitted to the police even though they did not meet the prescribed conditions. Therefore, they cannot be linked with the approved positions in the rules regulating internal organization and systematization of workplaces. The second group of employees consists of officers that made a significant omission, or have been otherwise discredited, but have not been prosecuted disciplinary or criminally, and have not been officially terminated. Informally, that means that they are "removed" from the service, but continue to receive a monthly payment, so as not to be left without income. A smaller number are those officers who were "disobedient" since the managers have not decided where to schedule them. Lastly, there is a problem with former managers with high-level police ranks, since there is not a high enough number of appropriate posts to be filled by these high-ranking officers. Colloquially, it means that they have a high police rank thanks to which they are not being degraded to lower positions", claims Bajramspahić.
Police director Slavko Stojanović declined to speak about this.
Stojanović sent a short commentary:
"Assignment of police officers and other changes regarding human resources will be carried out according to service demands and after acquiring necessary conditions for assignment to proper job position as stated by the Rulebook on the internal organization and systematization".
Policewomen expressly moved because she did not know who Enis Baković was
Police officers are often moved from one position to another without a good reason and explanation. There are bizarre cases, as one that happened last September.
According to unofficial findings by "Vijesti", a police officer that was securing the prosecution building in Podgorica was moved to another position because she asked a person who wanted to see the special prosecutor Milivoje Katnić to introduce themselves.
The man who casually wore a green "body shirt" did not present an ID, which is required for entering any government institution. It turned out that the police officer did not recognize the chief of criminal police Enis Baković, who was appointed nine months earlier.
"Vijesti" correspondents said that Baković was very offended that he was not recognized. He immediately requested from the Chief of Department responsible for the security of objects, Dragan Blagojević, to punish police officer by reassignment, which he did the same day.
"Vijesti", without any success, tried asking Baković and Blagojević what is the protocol that demands that an officer knows what every police director looks like.
Baković did not respond as to why he did not identify himself when entering the prosecution building for the purpose of recording the time and date of his visit, according to rules that apply to everybody. Blagojević did not respond with a reason that explains why the police officer was relocated or did the officer get the information verbally only, which "Vijesti" found out was the case.
A BURDEN TO CITIZENS AND COLLEAGUES
As a rule, unassigned officers do not work. Only some of them come to work hoping their status will be solved.
"I think it's especially important to emphasize that unassigned officers are not only a burden to citizens, who pay their salaries through taxes but to colleagues who actually work for the same pay too, taking on extra workload. Paradoxically, the number of police officers in Montenegro is multiple times over the necessary number respective of its population size, but at the same time it is lacking qualified cadres because of the overstressed social reasons", said Bajramspahić.
She claims that police is not going to achieve the expected quality of work until their priority becomes hiring those with special skills and knowledge needed for doing police work.
"According to our research, 51 percent of citizens think that it's impossible to get hired by the police without a connection through family and friends, while 44 percent think political connections are necessary", Bajramspahić pointed out.
The analysis was originally published on internet portal Vijesti.
Translation: Olga Boškov (BCSP)