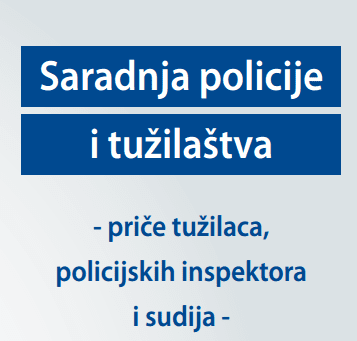 The fact that the Police Director and the Chief Special Prosecutor cannot implement the law and reach an agreement on the appointment of the Special Police Unit is irresponsible, especially having in mind high expectations of the domestic and international public for the Special Prosecutor's Office.
However, instead of showing dedication for solving problems between the Police and the Prosecutor's Office, the Government allegedly proposes to sweep the problems under the rug by proposing amendments to the Law on Special State Prosecutor's Office.
It is scandalous that the executive power threatens the Prosecutor's Office by proposing amendments to the law that would reduce the powers and, thus, tries to discipline this organ. Additionally, it is worrying that out of 158 police officers who meet the legal requirements for the Head of this police unit, none of them has earned the trust of the Police Director and the Special Prosecutor, while the agreement remains unreached for months.
The Police Director and the Chief Special Prosecutor are obliged to publicly announce their proposal for the appointment of the Head of Special Police Unit or which are the reasons and, above all, work results, that made them decide to support the future candidate. In particular, the Chief Special Prosecutor needs to explain which were the arguments was for rejecting candidates suggested by the police.
The meaning of the provisions which stipulates the involvement of the Special State Prosecutor's Office in the procedure of appointment of the Head of Special Police Unit is to start the cooperation on investigations into high-level corruption and organized crime instead of the current modus operandi, where both sides wait for one another. Joint decision on the Head of this unit should also ensure ceasing the practice of blaming the other side for the lack of results.
Although Institute alternative has been warning about problems in cooperation between the Police and the Prosecution, recently adopted amendments to the Criminal Procedure Code have not been used to start solving this issue seriously. European Commission's Report on Montenegro for 2015 has also emphasised that this problem is still current, stating that "practical problems in coordination and exchange throughout the law enforcement and judicial chain are not yet entirely resolved. This is one of the major shortcomings affecting results". (p. 17)
Instead of amending the law, the competent authorities should more responsibly start solving the issues regarding the problematic staff and other burning issues which are currently a burden for the criminal proceedings.
From November, in collaboration with the Prosecutors association of Serbia, Institute alternative is implementing a new project dedicated to the analysis of problems in the implementation of the Criminal Procedure Code, with the support of the Royal Netherlands Embassy. By analyzing the problems and sharing experiences, our goal is to come up with joint recommendations for improving communication and coordination to the work of Police and Prosecutor's offices in Montenegro and Serbia.
Dina Bajramspahić
Public Policy Researcher