What are the mechanisms of capturing security-intelligence services, how are they used for capturing other sectors and why this problem deserves greater attention within eurointegrations – these are the topics of the discussion that will be organized on June 4, 2019 at the Media Center (Grand hall, 2nd floor, Terazije 3, Belgrade, starting at 10am.
Discussion about following issues will also be opened at the event:
What can we learn from the example of security-intelligence services misuse in North Macedonia?
Why did the security-intelligence service in Montenegro escape the reform, even though this state has become a NATO member and is making progress in EU membership negotiations?
Is the development of special reports (so-called Pribe report) the most suitable way for addressing the politicization in the most important sectors in Montenegro and Serbia?
What are the consequences of neglecting the security-intelligence services reform in the process of eurointegrations and why it is necessary to include it in the areas that are the subject of negotiations and form the basis EU's assessment of the progress of the countries of the region?
Answers to these questions will be offered by: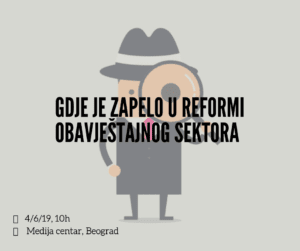 Magdalena Lembovska, Center for European Strategies – EUROTHINK, North Macedonia;
Dina Bajramspahić, Institute Alternative, Montenegro;
Predrag Petrović, Belgrade Center for Security Policy, Serbia;
This discussion is supported by the European Fund for the Balkans through the project ''Watching the Watchers: Towards Accountable Intelligence Services in the Western Balkans'', which is jointly implemented by Belgrade Centre for Security Policy from Serbia, the Center for European Strategies – EUROTHINK from North Macedonia and Institute Alternative from Montenegro.