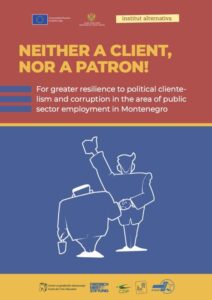 Public sector employment is a normatively neglected area, which led to the fact that various forms of non-competitive, non-merit-based employment became the rule, rather than the exception. Even in sub-sectors that were subject to greater scrutiny by the European Commission and civil society, the rules are so loose and the conditions so low, that there are no guarantees at all that people who possess the necessary knowledge and skills in the given field would be employed.
The rare exceptions, i.e. cases where we saw fulfilment of basic prerequisites for preventing undue influence, are not sufficient for meaningful progress in this area, which is much needed and which the European Union constantly underlines.
Even if some type of testing exists, there is no obligation to select the best-ranked candidates, which calls into question the appropriateness of the procedures that precede the final decision on recruitment. The obligation to publicly advertise jobs in a public enterprise, public institution and other public services is defined with numerous exceptions, including extension of employment contracts and referral of employees. Given that mandatory duration of the public advertisement is only three days for public institutions, public enterprises and certain agencies, this is definitely not a guarantee of competitiveness.
Read more in our publication, while detailed findings are available at our Map of risks of corruption and undue interference in public sector recruitment, available here.