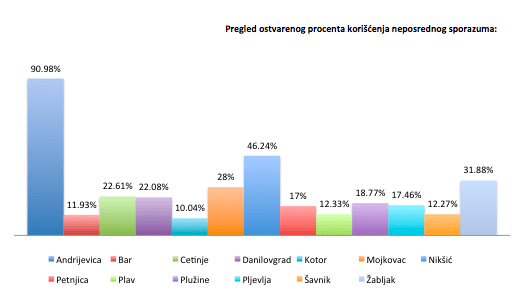 Irrational planning and frequent changes of plans, violations of provisions of the law, contracting goods and services without public insight, remain central problems of procurement at the local level.
In 2014, Montenegrin local governments have spent more than 10 million euro on public procurement. This amount doesn't include data for Municipality of Bijelo Polje, considering the fact that this local government has not responded to the Institute alternative's request for free access to information, sent three mounts ago.
A total of 13 municipalities have violated the legal norm for the use of direct agreement, especially Municipality of Andrijevica 90.98%, Municipality of Nikšić 46.24%, Municipality od Žabljak 31.88% and Municipality of Cetinje 22.61%. Even though this practice of overuse of direct agreement as the least transparent procedure is being repeated year after year and classified as a misdemeanor punishable by fine, Public Procurement Administration fails to keep records about it. It is not clear whether the municipality employees are taking responsibility for these violations. Public procurement officers we surveyed earlier this year warned that often they don't have immediate access to all the direct contracts concluded, so they can't keep records about it.
There was no progress towards a more realistic budget planning for public procurement in 2014. Municipalities, with the exception of Municipality of Kotor and Municipality of Podgorica, have been changing their plans during the year. The Municipality of Bijelo Polje has changed the public procurement plan most often, sixteen times, and Municipality of Bar has prepared seven amendments to the originally approved plan. All local governments had significant deviations between completed and planed budget for public procurement in 2014.
Public Procurement report, as we were informed by the municipalities, is publicly available and published exclusively on the website of the Capital City. In order to achieve higher level of transparency and prevent frequent violations of The Law on Public Procurement, it is necessary to publish direct agreements on the web sites of the contract authorities, in accordance with Article 138 of the Law on Local Self – Government. Furthermore, direct agreements should be published on the website of the Public Procurement Administration in electronically readable form, to enable grouping data.
Jovana MAROVIĆ
Research Coordinator
Full information about public procurement at the local level can be found here. (in Montenegrin only)
The research is conducted within the project "Civil Society and Citizens against Corruption in Public Procurement", which is implemented by the Institute Alternative with the support of the Embassy of the Kingdom of Netherlands. The activities aim at strengthening the cooperation between state and non-state actors in the joint efforts in identifying irregularities in public procurement and formulating the recommendations for improvement.