Within the project ''Voice Your Rights! – Expanding Space for Free Assemblies" Institute Alternative (IA) supported four civil society organisations. Together with IA and Human Rights Action (HRA) they will monitor public assemblies in the next six months and work on expanding the space for activism.
"At the time when we applied for the project, public assemblies were not something that is now almost ordinary. With this project, we wanted to change the worrying trend of narrowing the space for activism to act in public space. In the meantime, this has actually become a burning issue", said Dina Bajramspahić, Public Policy Researcher at IA and project coordinator, for PR Center.
She added that public assemblies are interesting human rights because they are both a right but also a way to achieve other rights. The aim of the ''Voice Your Rights! – Expanding Space for Free Assemblies" project is to contribute to democratisation and  expansion of space for activism.
"At the time we started thinking about this as an important issue, the only public assemblies were International Women's Day March, International Workers' Day March, Pride Parade, and "Odupri se" movement. There were no public assemblies in sight. That is why we wanted to use the space to talk about this right, and to highlight not only the importance of its use, but also its proper use", Bajramspahić said.
Ana Đurnić, Public Policy Researcher at IA and grant scheme coordinator explained for PR Center that Institute Alternative with the support of the European Union Delegation granted 34.190 EUR for these four projects.
"We are excited to see what these four organisations will achieve through their projects, and what goals will they reach", Đurnić added.
Asked why the grant scheme and why these four organisations, Đurnić explained:
"Just as no man is an island, so no NGO is an island. It would be very difficult for us to individually reach to every citizen in Montenegro. Therefore, we needed help of both, our project partners and other NGOs to help us spread key messages from our project as far as possible".
She added that IA is satisfied with both, the number and the quality of the received projects proposals. "We received a total of 12 applications for the Call for Proposals. That is a really big number considering that we could support only four", Đurnić said.
She explained that these four organisations will implement their projects in Budva, Podgorica, Pljevlja and Nikšić, and added that all projects will last six months.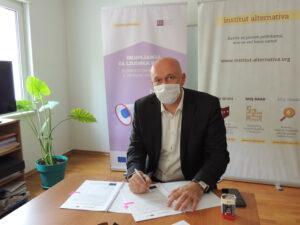 Boris Marić, Executive Director of Center for Civil Liberties (CEGAS) which will implement the "Freedom of Assembly between Local Self-government and the Constitution of Montenegro" project, said that they will shed light on the position of local self-governments in the context of public assemblies.
"As a case study we will primarily have religious protests, which are interesting for many reasons and aspects. And finally we will have conclusions and recommendations.I think that will make an essential contribution to something that is freedom of assembly and further democratisation od Montenegrin society", Marić added.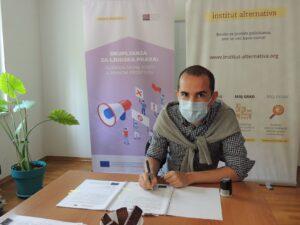 John M. Barac, Executive Director of LGBTQ Social Center explained that their project "Freedom of Assembly of LGBTQ persons at the Local Level" will focus on the case of Nikšić Pride.
"This event has been banned three times and there is still no court epilogue", Barac added.
He said that the primary target group is the LGBT community. In that context  this group needs to be empowered and made sure to receive adequate information and knowledge, to know their rights, their position and their opportunities.
"Of course, not only the LGBTQ community, but also the general public and the public in Nikšić", Barac concluded.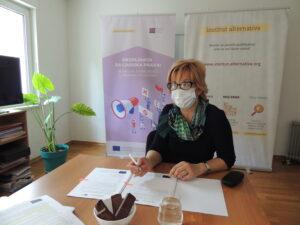 Mila Radulović, Secretary General of the Association of Professional Journalists of Montenegro (DPNCG) said that one of the key goals of the "Journalists for Freedom of Assembly" project is to help professionalisation and knowledge improvement of colleagues when it comes to professional reporting on these assemblies.
"Our target group are citizens in local communities and journalists and editors in order to professionalise their reporting. The expected goals are to increase the capacity for professional reporting on assemblies at local level and to improve the knowledge of citizens about their rights related to assemblies", Radulović said.
"We have seen in recent years that people use their constitutional rights in different ways – gather in public space and express their views and opinions on various controversial issues in society", Dragoljub Vuković said. He is President of NGO Media Center Assembly, organisation that will implement "Professional Reporting on Public Assemblies" project.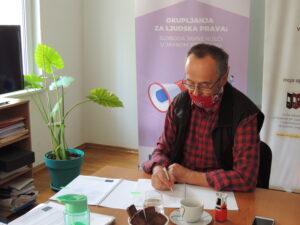 Vuković added that it has been noticed that the public media do not report in a quality way on public assemblies and that type of manifestation of free political will.
"Our goal is to contribute to better informing the public about the enjoyment of this right, to improve the reporting of the public service broadcaster – RTCG and local public services on this type of assemblies", Vuković said.
He said that there is a lot of one-sided reporting. In a way that supports one or the other side, depending on what is preferred in the editorial policy of the public media.
"Public service should not do that. Public service must ensure all views on a particular matter in a good way, to provide a appropriate context for its reporting and to correlate with an appropriate background so the people can understand what it is about, who represents what and whose interest it is", Vuković concluded.
Four organisations are supported through the grant scheme of the ''Voice Your Rights! – Expanding Space for Free Assemblies" implemented by Institute Alternative in partnership with Human Rights Action and supported by European Union through the Instrument for Democracy and Human Rights, Program for Montenegro 2018. Content of this publication are sole responsibility of IA and in no way reflects the views of European Union.
Details about projects, their goals and activities find in the next video links: