Author: PR Center
Montenegro will not be ready to conclude the EU accession negotiations in due time, if anti-corruption institutions continue to work at the current pace, said Stevo Muk, President of the Managing Board of the Institute Alternative (IA).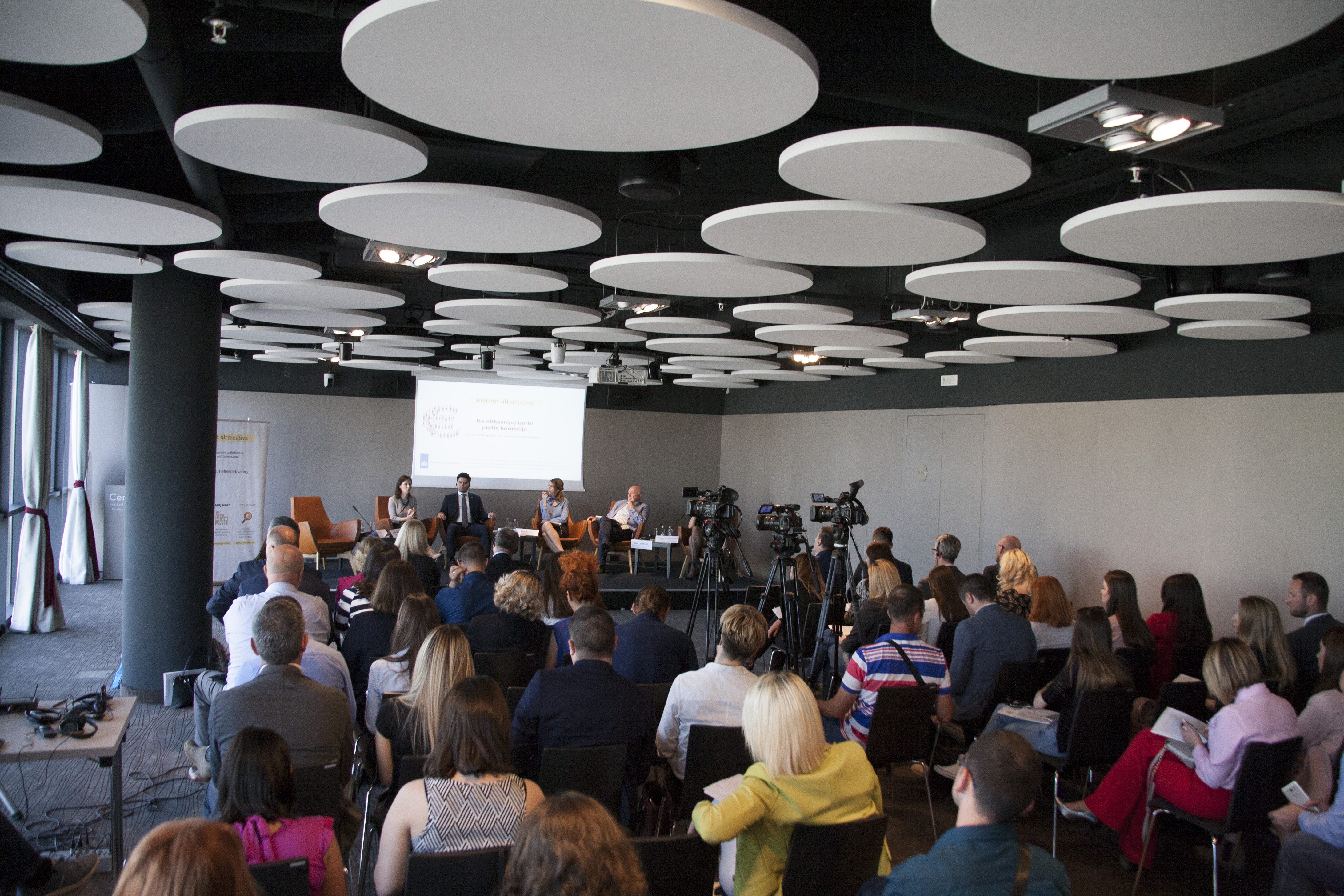 At the panel discussion "Towards Qualitative Signs of the Anti-corruption Efficacy" organized by IA, Muk said this the organization will continue to deliver "unpleasant truths" and offer recommendations for better practices and more effective work.
"We cannot and must not do the work of a spokesperson for the Government and state organs. There are people who are paid to do this, "Muk said.
Civil society needs a government that seeks criticism, "and not a government that condemns criticism and critics", he stated.
"We believe that the process of European integration is a prerequisite for reforms, especially in the area of rule of law and that the process of European integration, with all its ups and downs, is the key transformational power of our society," Muk said.
He stated that trust in the European integration is not an obstacle for criticizing the EU approach.
"We ask for clearer and more stringent benchmarks and a tougher approach, especially in Chapters 23 and 24. Accordingly, we are open to give our contribution to the documents that the Government and the European Commission need to prepare during this and the coming year, so that further dynamics on this path is more clear for everyone" , Muk said.
Head of the EU Delegation to Montenegro, Aivo Orav, said that corruption does not present a single illegal act, but that it freezes institutions, hampers the work of the judiciary and harms the quality of democracy.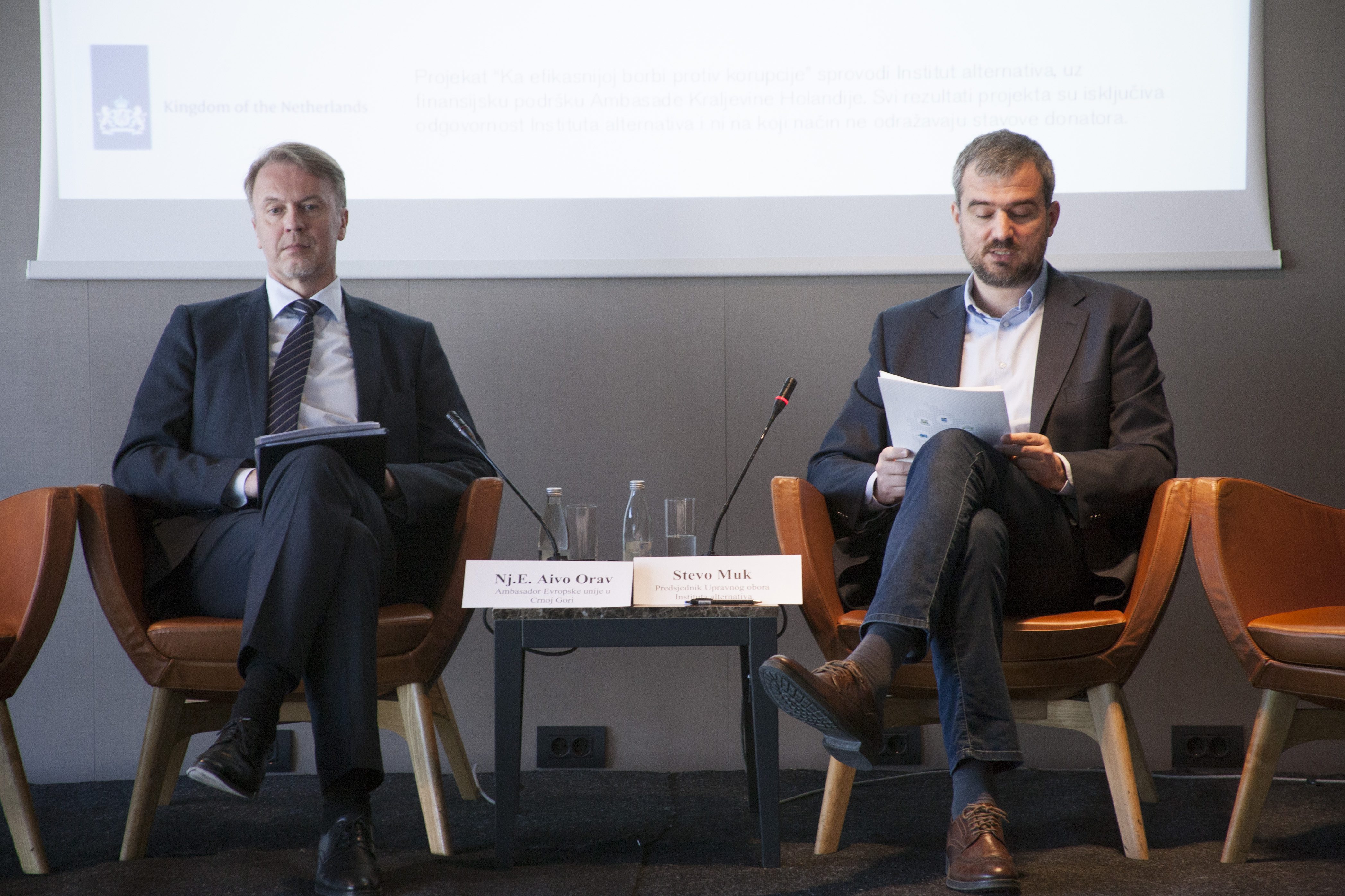 "Therefore, we need to be determined in fight against corruption. It is in the interest of all of us to do this, "Orav said.
According to him, corruption in Montenegro remains prevalent in many areas and this remains a cause for concern.
"Operational capacities of institutions have been improved, but all institutions need to demonstrate more proactive approach. This is especially the case with the Agency for the Prevention of Corruption. Management and staff of the Agency should ensure maximum transparency, integrity, impartiality and accountability. This was not the case with the decisions about members of the Council of the Radio and Television of Montenegro (RTCG), "Orav said.
The EU, as he said, will continue to be a key partner of Montenegro in the fight against corruption.
Secretary General of the National Integrity Agency in Romania, Silviu Ioan Popa, said that this Agency has never been subjected to political pressure and that independence and full authority were first conditions it needed secured.
"It is also important that the methodology we use is clear and all cases are treated in the same way. The third key to success is that we have access to all the information in Romania. We have access to bank accounts, documents related to private life. Usually we get this information right away and we do not have to wait long, "Popa said.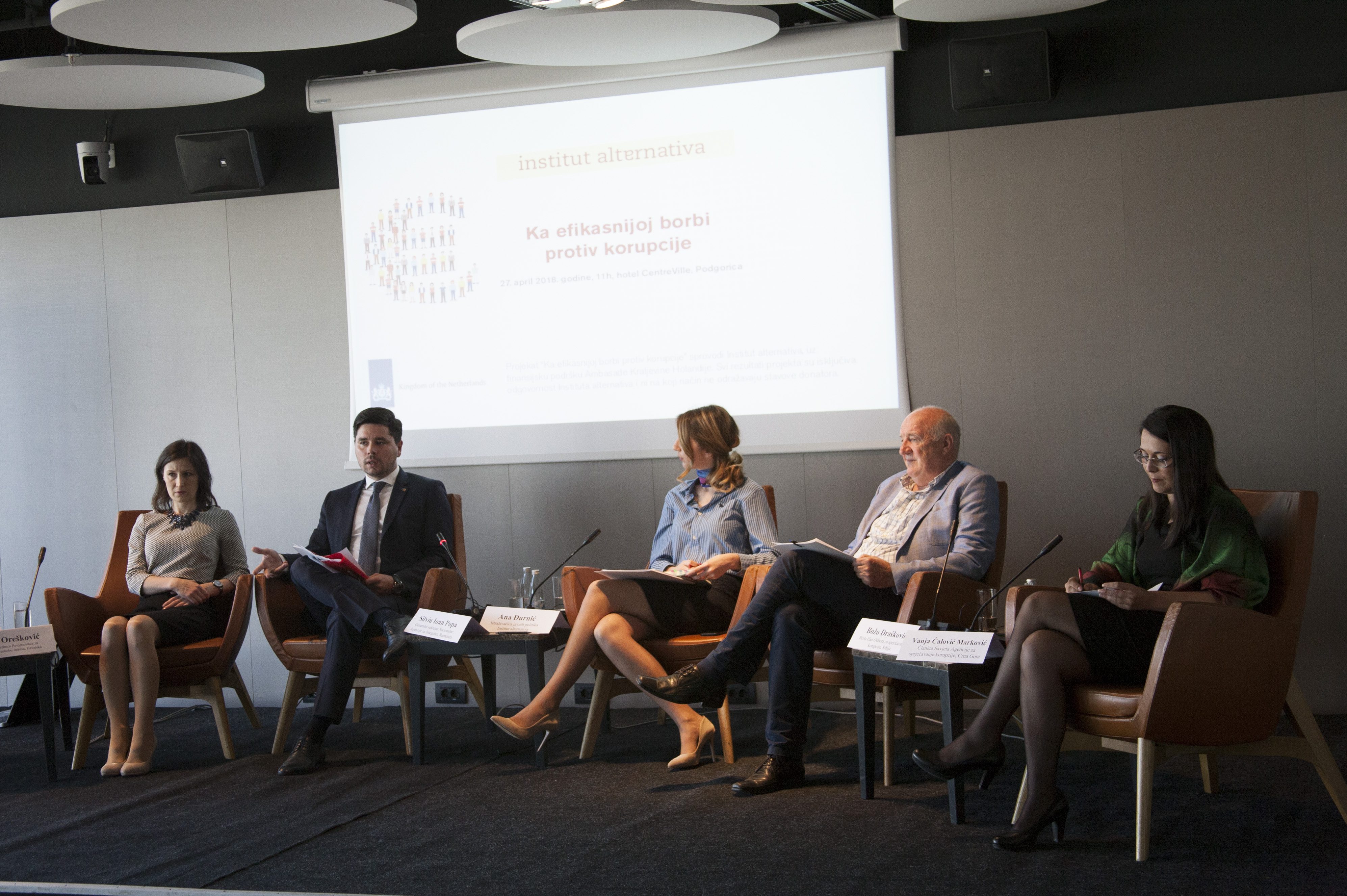 He further noted that the National Integrity Agency of Romania cooperates with non-governmental organizations and media.
"In Romania, every year we receive hundreds of cases by media and NGOs. They can follow the flow of these cases and present it to the citizens. In this way, public trust is gained. Because having an anti-corruption institution that the public does not trust presents a failure from the very beginning, "Popa said.
He said that in Romania they had initiated investigations by reading newspaper and that 90 percent of investigations were initiated of its own motion. 
"Now this ratio is reversed. We receive hundreds of information and submissions from ordinary citizens every day. This means that citizens have become more familiar with our work. We have noticed that it is very important how informed citizens are and their level of awareness, "Popa said.
Member of the Council of the Agency for the Prevention of Corruption in Montenegro, Vanja Ćalović Marković, said that the work of the Agency is characterized by distinct non-transparency.
"There is a big problem with access to information, not only when it comes to NGOs, but also when it comes to citizens, and even members of the Council. Since the establishment of the Agency, according to its official data, there has been no more buying of votes, IDs, party employment. So, this is the only institution in Montenegro that does not see what is seen from Brussels and Washington, "said Ćalović Marković.
According to her, the Agency for the Prevention of Corruption is a "trained tiger, which has been trained by the ruling party".
The interpretation of the Agency, which, according to Ćalović Marković, is most problematic is that the Agency only deals with assets of public officials that have been acquired since the beginning of 2016, i.e, since its establishment.
"This is essentially a silent abolition of public officials for illegal acquisition of assets up until 2016. The Agency dared to draw the line and say – what you have stolen is stolen, now we are here and we will try to not catch you in the coming period as well, "said Ćalović Marković.
She stated that the key problems in the work of the Agency are politicization and selectivity.
"And above all, the problem is non-transparency. Because public disclosure means showing how much they do not work, the Agency is trying to get as little information about its work as possible to the public, "said Markovic Ćalović.
Former member of the Anti-Corruption Agency's Committee in Serbia, Božo Drašković, said that there are no institutions without responsible and independent people in them, who are publicly available and ready to bear the consequences of what they are doing.
"Institutions are made of people and we never go a step further to say who is sitting in these institutions and what they do in them. This means personalized, and there lies key problem as to why the system does not work or works poorly when it comes to preventing corruption and conflict of interest" Drašković said.
According to him, the problem of conflict of interest is always more difficult to solve when it comes to someone high on the scale of political power.
"It is easy to remove a director of an elementary or high school because he pushed for a decision to employ his or her cousin ​​in school. In this case, we are rigorous and rightly so. But when it comes to a minister, it is hard to make a progress, even though you have complete evidence of conflict of interest" Drašković explained.
He said he does not believe "a single politician who works for a thousand euros".
"You are so capable that you can earn tens of thousands of euros a month, but you choose to take the trouble to work for a thousand euros for our benefit. When I look at your expenses, I see you have a much larger amount of money. I wonder where it comes from, but we have never managed to investigate this, "Drašković said.
Former President of the Commission for the Resolution of Conflicts of Interest, Dalija Orešković, said the most sensitive cases are those establishing that someone is in a situation of potential conflict of interest, as well as situations in which "an official violated ethical norms of acting".
"Circumstances of one's private life can influence his or her impartiality. The role of the bodies in charge of conflict of interest is to say – this is a potential conflict of interest and this official is expected to be removed from such situation in a timely manner, "Orešković said.
In order to have less corruptive actions and corruptive activities, it is necessary to achieve a certain synergy in the society as a whole.
"There must be a reaction not only from bodies obliged to do something within their competencies, but also from the public and citizens. The moment when the standards of what can or cannot be tolerated take roots in most of the citizens, then this bodies will achieve its ultimate goal" Orešković said.
The panel discussion "Towards Qualitative Signs of the Anti-corruption Efficacy" was organized in the framework of the project under the same title, implemented by the Institute Alternative with the financial support of the Embassy of the Kingdom of the Netherlands.