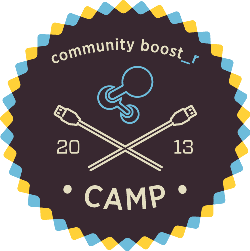 Community boost_r camp was held in Sarajevo and brought together nearly 150 participants from five countries of the Western Balkans (Bosnia and Herzegovina, Croatia, Montenegro, Kosovo and Serbia). On behalf of Institute Alternativa, the camp was attended by Marko Sošić, coordinator of the project from which emerged our visualization of local budgets in Montenegro, www.mojgrad.me.
During the two days of the camp, participants focused on the use of data in the monitoring of political accountability and in the development of strategies for monitoring of the level of corruption as well as on the use of open data and new technologies in the advocacy activities conducted by civil society organizations.
Community boost_r camp is organized by Fundacja TechSoup (TechSoup Europe) and UG "Zašto ne" (BiH) in partnership with Dokukino Foundation (Serbia) and IPKO Foundation (Kosovo), and with the support of the Charles Stewart Mott Foundation, the National Endowment for Democracy and the Embassy of the United States in Bosnia and Herzegovina.