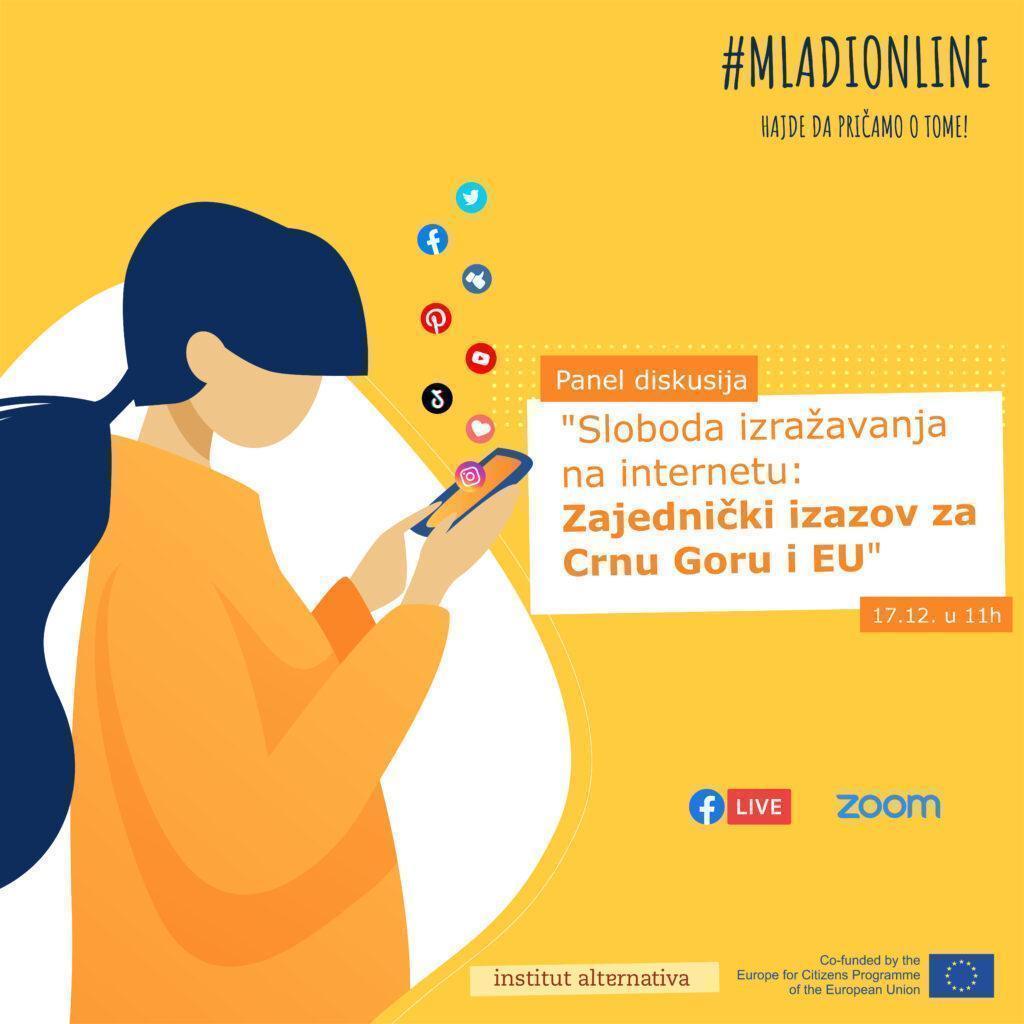 On Thursday 17, 2020, Institute Alternative will organise public discussion "Freedom of Expression on the Internet: A Common Challenge for Montenegro and the EU", starting at 11h. 
Social media has exponentially increased the space for free expression on the Internet, but it has also created new challenges. They enabled easier communication and connected us, but also opened a space for spreading hate speech and disinformation. Policy-making and implementing appropriate policies to address these challenges has become a topic of transnational importance.
Primarily, aim of this event is to present the opinion of young people on this issue – good and bad sides of the Internet and social media; potential solutions for regulating speech on the Internet; and who should be responsible for taking action in this field.
The panel discussion will  focus on whether and how this issue is regulated in our country, what examples we had in practice till now, as well as how we can influence young people to use social media wisely.
Given the current epidemiological situation, the panel discussion will be held online, via the Zoom platform.
After the registration, you will receive all information regarding the event on you e-mail.
The introductory speaker for this event is Stevo Muk, President of the Managing Board, Institute Alternative.
In the first part of the event, we will present the conclusions from the consultative meeting with young people "Youth Online".
In the second part of the panel, on this topic will discuss:
Siniša Gazivoda, lawyer and expert on freedom of expression,
Marija Vesković, Human Rights Action,
Olivera Nikolić, Montenegro Media Institute.
Discussion will be moderated by Dragana Jaćimović, Institute Alternative.
Draft agenda (Montenegrin version) you may find here.
This public discussion is organised within the project "Make Future Together: EU and the Western Balkans from the Youth Perspective", implemented by a network of think tanks from 6 countries in the region (Think for Europe Network – TEN), together with International Affairs Institute in Rome, Bronislaw Geremek Foundation in Warsaw and European Policy Centre (EPC) in Brussels. The project is funded by the European Union through the Europe for Citizens program.