International Women's Day March, International Workers' Day March, Pride Parade, environmental protests, political demonstrations, religious protests– are examples of public assemblies where citizens want to express their beliefs and demands to public authorities.
Four more organisations have joined our efforts to improve freedom of public assembly in the upcoming period, with the support of the European Union in Montenegro.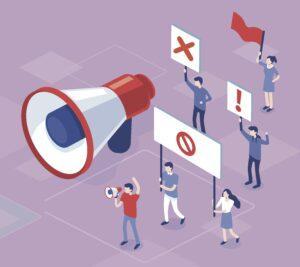 Institute Alternative (IA) and Human Rights Action (HRA) will join forces within ''Voice Your Rights! – Expanding Space for Free Assemblies" project, with four other projects:
– "Professional Reporting on Public Assemblies", NGO Media Center;
-"Journalists for Freedom of Assembly", Association of Professional Journalists of Montenegro;
– "Freedom of Assembly between Local Self-government and the Constitution of Montenegro", Center for Civil Liberties;
-"Freedom of Assembly of LGBTQ persons at the Local Level", LGBTQ Social Center.
We supported the organisations within the project ''Voice Your Rights! – Expanding Space for Free Assemblies" implemented by Institute Alternative in partnership with Human Rights Action, and supported by European Union through the Instrument for Democracy and Human Rights, Program for Montenegro 2018.
The content is the sole responsibility of IA and HRA, and in no way reflects the views of the European Union.
Watch a short video about what we want to achieve with these projects: