Venue: Media Centre, Terazije 3, Belgrade
Time: 10:00 – 12:00
Regional network of civil society organizations POINTPULSE is organizing a panel "Women in Police: Perspectives from the Western Balkans" that will be held on the International Women's Day, Tuesday, 8 March, at 10h in the Media Centre in Belgrade (Terazije 3).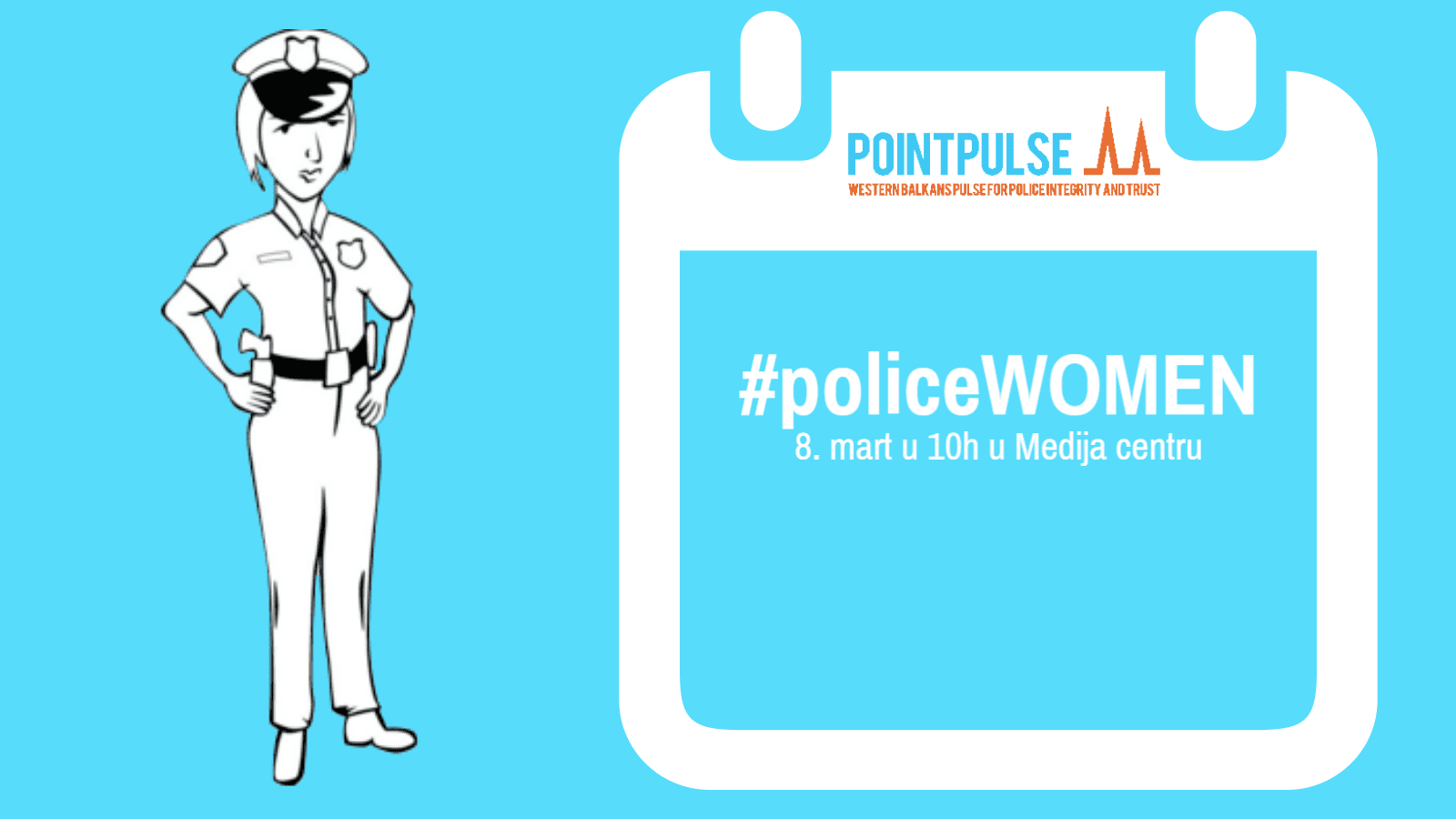 The aim of the event is to encourage discussion on addressing gender issue within law enforcement agencies in the Western Balkans.
The discussion will be held in Serbian, Montenegrin, Bosnian and English language. Simultaneous translation will be provided.
These questions will be address at the event:
To what extent are women represented in police service, and which ranks and tasks women usually have?
What are good practices for attracting women to choose police career?
What are main challenges for women in career development and is there any institutional framework for addressing gender issue within police?
Speakers at the panel are as follow:
Andreja Bogdanovski, Researcher, Analytica from Skopje;
Aurelija Djan, Researcher, Belgrade Centre for Security Policy;
Mirela Hodović, Researcher, Centre for Security Studies from Sarajevo;
Dina Bajramspahić, Public Policy Researcher, Institute Alternative from Podgorica;
Sotiraq Hroni, Executive Director, Institute for Democracy and Mediation from Tirana;
Plator Avdiu, Researcher, Kosovo Centre for Security Studies (KCSS) from Pristina.
Moderator will be Jelena Zorić, Journalist from the regional television N1.
For participation at the conference, it is necessary to confirm your attendance by Monday, 8 of March 2016 the latest. Confirmations of attendance can be submitted either via telephone +381113287226 or via email at office@bezbednost.org. Additional information on the conference can also be obtained through the contact points provided above.
Follow POINTPULSE activities and this disucssion (#policeWOMEN) on:
Twitter: https://twitter.com/POINTPULSEnet
Facebook: https://www.facebook.com/POINTPULSEnet/
Panel discussion is organized within project "Western Balkans Pulse for Police Integrity and Trust (POINTPULSE)", supported by the EU Union via Civil Society Facility Programme (EuropeAid/136-034/C/ACT/Multi). The contents of this project are the sole responsibility of the POINTPULSE network and views expressed are not necessarily those of the EU.