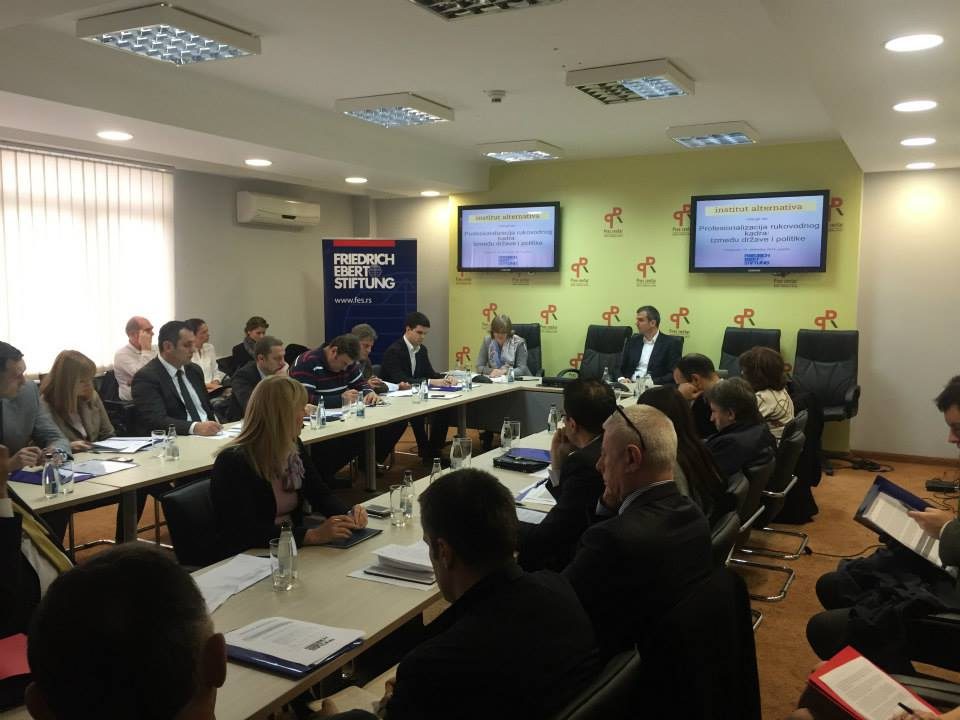 Round table "Professionalization of Managerial Staff: Between State and Politics" was organized by Institute Alternative with the support of Friedrich Ebert Foundation (FES).
Stevo Muk, president of the Managing Board of the IA, and Dragana Ranitović, acting director general of the Directorate for state administration and local self-government have opened the event.
They had reminded on importance of preventing direct and indirect political influence over managerial positions in state administration. This principle implies that positions such as secretary or director general in the ministry should represent the upper limit which separates professional position from political appointments.
"However, in Montenegro, managerial positions in state administration are very often exposed to direct political influence. The undated resignations affair, when, in December 2012, 148 state administration managers have put at disposal their resignations to the then prime minister-elect, is only one manifestation of this problem", Muk said.
Milena Milošević, IA's researcher, has presented the key findings of the policy study on professionalization of managerial staff.
She said that the main factors which impede professionalization are consisted in insufficiently elaborated procedures of appointments and dismissals, negligence of professional development needs of senior managers, inconsistent and superficial performance appraisal, intransparent remuneration policy, and imprecise provisions on political neutrality of civil servants.
"Current solutions leave a lot of discretion to the Government and to the relevant minister during the appointments of senior managers. Testing of candidates is reduced to the interview and oral conversation", Milošević highlighted, while adding that, based on current legislation, senior managers do not need to experts or specialists in the areas they cover.
On average, they are mostly required to have an undergraduate degree in social sciences and at least three years of working experience in managerial positions or positions requiring full working independence. The wage policy also leaves little room for attainment of the most qualified cadres, what might result in less transparent remuneration of senior managers.
IA's findings suggest that senior managers receive 200 euro more that the average civil servant or state employee. Nonetheless, their wage does not provide a whole picture of their earnings, because they receive additional income for membership in various bodies and managing boards of public companies. Hence, the average monthly income of senior managers amounts for 1,000 euro.
"Political neutrality is not adequately regulated either", Milošević pinpointed.
Civil servants should restrain themselves from public exposure of their political attitudes. Expression of these attitudes during the working hours is considered to be a severe breach of official duty. Yet, it is not clear what exactly "restrain from public exposure of political attitudes" implies, especially in the light of the fact that at least 90 senior managers are simultaneously members of bodies of political parties currently in power.
Svetlana Vuković, director of the Human Resources Management Authority, reminded that the new Law on Civil Servants and State Employees, represents a significant step forwad, especially concerning professionalization of senior managerial staff and of heads of authorities, because this Law has set clear conditions this cadre should meet and has limited its mandate.
"Only one senior manager and one head of authority have been dismissed since the start of the implementation of the new Law on civil servants and state employees because of unsatisfactory performance" she added.
Danijela Nedeljković-Vukčević, head of the State Administration Unit within the Ministry of Interior, explained that the additional delimitation between political appointments and professional positions has ben achieved by the introduction of expert-managerial staff, which is one of the absolute novelties of the new Law, but by the introduction of state secretaries and special advisors as well.
She emphasised that, within the Ministry of Interior, they are aware about certain shortcomings in the implementation of the Law as well. These shortcomings are poor administrative and technical capacities of institutions tasked with the Law implementation, incompleteness of Central Human Resources Register, lack of strategic planning of professional trainings and problems in functioning of Ethical Committee.
Dr Dragan Đurić, core technical advisor at the United Nations Development Programme, highlighted the fact that state administration is increasingly becoming a creator of public policies.
"Who is drafting negotiating positions within the membership talks with EU -civil servants", he added, with the remarks that such situation might lead to an accountability crisis.
All speakers have agreed that it is extremely important for the most competent people to occupy managerial positions in state administration.