The State Prosecutor's Office should not use the absence of criminal charges as an excuse, but also, the State Audit Institution (SAI) does not have to be absolutely sure about the outcome of its criminal charges in order to proactively act, it was assessed at the conference organised yesterday by Institute alternative (IA).
The conference "Auditors and Prosecutors on the Same Task" was organised with the financial support of British Embassy Podgorica, within the namesake project.
Stevo Muk, President of the Managing Board of IA, opened the conference by pointing out that, even though the missions of the State Audit Institution and State Prosecutor's Office are very much different, both of them have an extremely significant role in combating corruption.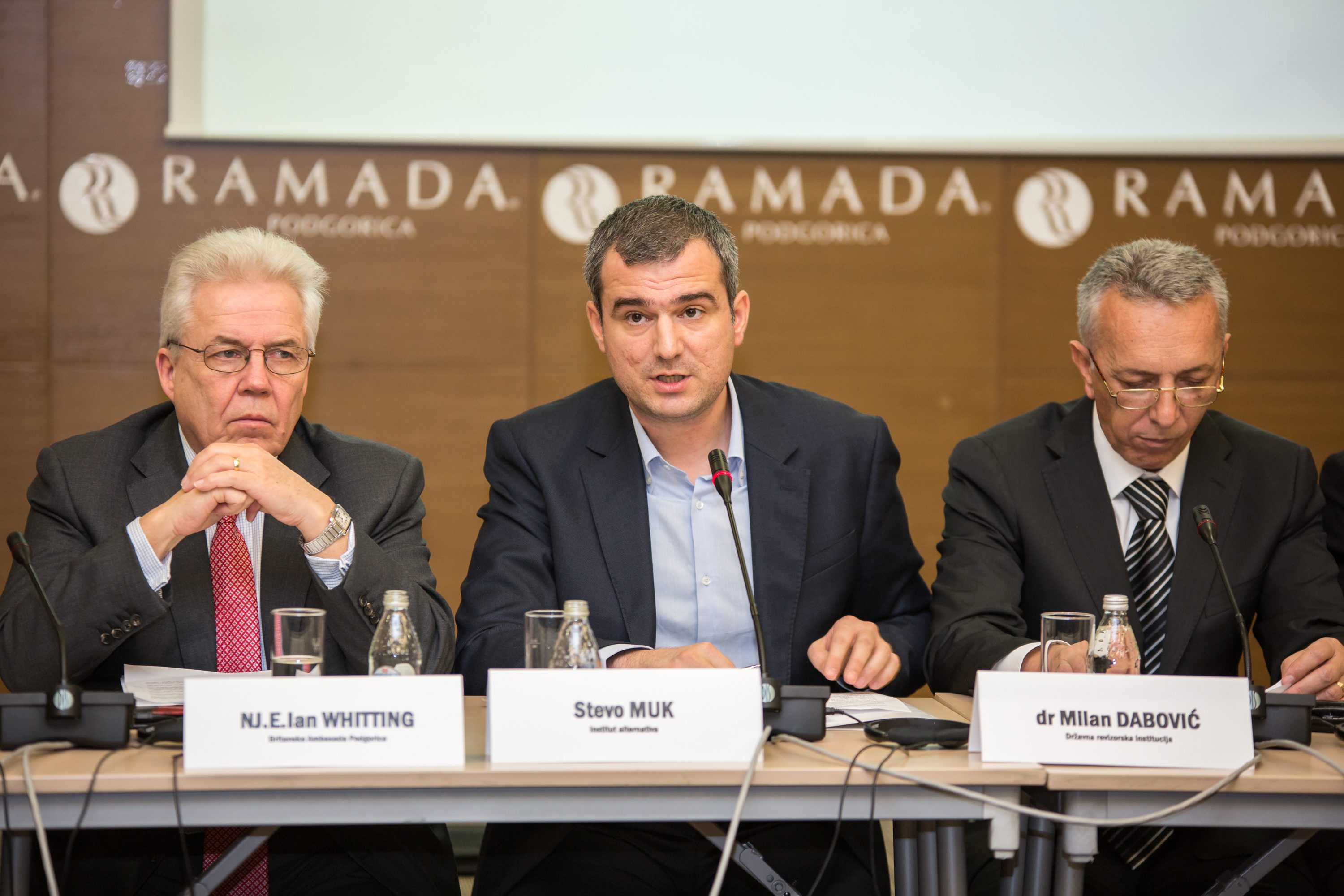 "In at least eight cases, SAI has submitted particularly worrying audit reports to the State Prosecutor's Office. However, no one is being held accountable for determined violations of the laws", he added, recalling the already familiar thesis on the cooperation of these two institutions.
"On the one side, there is a thesis that the SAI is not using its legally prescribed possibility of filing criminal charges and that its reports are written in a way that requires an unnecessary additional work of Prosecution. On the other side, there is a counterargument of SAI that the reports it submits to the State Prosecutor's Office are particularly problematic in terms of abuse of public resources", explained Muk.
Ian Whitting, British Ambassador to Montenegro, pointed out that this kind of gathering is a chance to discuss on joint objectives, but also to hear examples of good practices and experiences from the EU countries: "It is our common task to, eventually, get a judiciary with the face of the citizens of this country."
"Not only that prosecutors and auditors are on the same task, but all the colleagues from Montenegro who want to progress in terms of European integrations", added Whitting.
Milan Dabovic, President of the Senate of SAI, stressed that the SAI and Prosecution are autonomous and independent authorities, but that there is always room for improvement of their mutual cooperation.
"It is necessary to organise joint meetings, trainings and workshops aimed at exchanging information on capacity building", suggested Dabovic.
Veselin Vuckovic, Deputy Chief State Prosecutor, agrees that there is a need for improving mutual cooperation.
He reminded of previous joint initiatives also aimed at strengthening cooperation among institutions, including determining guidelines for state auditors for reporting criminal offenses.
"The anti-corruption legal framework and regulatory instruments themselves are not sufficient without institutional conditions", he said, pointing out that SAI reports, in that context, play a significant role.
The panel discussion within yesterday's conference, moderated by Jovana Marović, research coordinator at IA, gathered representatives of SAI and Prosecution, but also the colleagues from the region, who shared useful comparative experiences.
Dr. Branislav Radulovic, member of the Senate of SAI, suggested the establishment of special department within State Prosecutor's Office that would follow SAI's findings. "Our reports are at the high level of professional processing", he explained.
He ended his presentation with verses "You take up where I left off", alluding to the necessity of taking into account adverse SAI reports in Prosecution's work.
Veljko Rutovic, Special Prosecutor for Combating Corruption and Organised Crime, explained that, when it comes to SAI reports, the wrong perception is being created in public, i.e. the fact that SAI submits the report with adverse opinion does not necessary mean that criminal offense has been committed.
He stressed that Prosecution's work would be facilitated if SAI would clearly single out the facts that point to a serious violation of the law. In other words, the existing form of SAI reports is not adequate for analytical processing and slows down the work of the Prosecution.
Milena Milinkovic, Manager of the Group for Legal Audit Support in State Audit Institution of Serbia, presented work results of the institution where she works from its establishment in 2007 until today.
"Since 2011 until the end of 2015, we have submitted over one thousand requests for initiating misdemeanor proceedings, 96 charges for economic crimes and at least 110 criminal charges", she explained.
Most of the criminal charges refer to criminal offense misuse of budget funds. However, in Montenegro misuse of budget funds is not considered criminal offense, and as a misdemeanor it was stipulated only two years ago, in 2014.
Srdjan Blagovcanin, President of the Board of Directors of Transparency International Bosnia and Herzegovina, argues that the common characteristic of the region are closed and distrustful institutions.
The specificity of his country are basic problems arising from complex administrative-territorial division. Also, the political influence over institutions is systemically present.
"We have had some comical situations where highly-positioned party officials were appointed for state auditors," said Blagovcanin.
He suggested formalization of cooperation between auditors and prosecutors and reduction of discretion, i.e. arbitrary deciding, in order to prevent different classification of in, fact, identical situations.
Prof. Dr. Vladimir Goati, President of the Transparency Serbia, stressed another regional problem – "mentality of corruption".
"The politicians think that it takes one mandate to combat corruption, but it takes the entire generation", said Goati.
Jovana Marović from IA, summarizing the discussion at the conference concluded that, although the agreement between these two institutions would be expected next step towards their mutual cooperation, from their representatives' presentations follows that they should only do their job within their legally defined jurisdiction.
Within the project "Auditors and Prosecutors on the Same Task", IA will publish a study on cooperation between SAI and State Prosecutor's Office by the end of month.