General tone of the September EC's Report will predominantly depend on how the election day will end. In the area of judiciary reform, fight against corruption and organised crime – nothing has been done to deserve praises. Resignation of Vesna Medenica would help us score some points in the eyes of the EC.
In this phase of the negotiation process with EU, task for Montenegrin administration is to convince the member states with its results that Montenegro is actively changing and that, when we join EU, we will not be headache for others, said the representative of Institute Alternative (IA) in the Chapter 23 Working Group, Dina Bajramspahić.
She reminds that the decision-makers in the EU are officials, and therefore politicians, and that they must "defend at home" the possible support of enlargement. Since there is not enough willingness for new enlargements, and such mood dominates across the EU and the Balkan countries don't have good reputation, they must have concrete arguments. "Europeans are not interested in some, even for us incomprehensible statistics, of Agency for Prevention of Corruption (APC) or Special Prosecutor Office (SOP). They expect tangible results, clear and striking examples in all spheres of society", said Dina Bajramspahić for Vijesti commenting on expectation regarding the new EC Report which is expected to be published in September.
She believes that the general tone of report on Montenegro and how critical it will be in principle, will predominantly depend on how the election day will end, primarily in terms of respect for laws and procedures, functioning of institutions, quality of democracy, competitiveness of elections and equality of opportunities.
"When it comes to negotiation chapters, the assessments will be mostly similar to those in previous reports, especially for chapter 23 and 24 – they will be almost the same as in the non-paper from June. This should be considered unsatisfactory. In the area of judiciary reform, fight against corruption and organised crime – literally nothing was done in reporting period to deserve some praises in September. It is about time for institutions to change their attitude from "huh, we survived the progress report", to "we have to design and implement big actions and moves on our own as proof of a serious commitment to achieving standards". This should be done persistently, every six months until we achieve membership. In a non-paper from June, EC expressed concern over the controversial appointments of senior officials in the judiciary. It is also stated that challenges remain regarding the overall situation in the area of freedom of expression and the media…
Bajramspahić says that the EU will say less and less "that we have to do this or that". We will be left to do something by ourselves if we want progress. "In that light I also look on the situation with the third mandates. The chance for the President of Supreme Court (Vesna Medenica) to resign was small, but this move could produce benefits for the reform of judiciary, for strengthening institutions against concentration of power in the hand of individuals. This move would help us score some points in the EU, approaching us to reach the final benchmarks. Nothing of that happened and that is a pity", says Bajramspahić, answering the question how the EC Report will be affected by the fact that the recommendation of Deputy of Prime Minister and Minister of Justice, Zoran Pažin to withdraw the presidents of the courts elected for the third mandate, was not accepted.
As positive from the previous period, she points out that Montenegro has accepted the new methodology of negotiations and adopted the Law on Life Partnership of Same-Sex Partners, and this will be welcomed by the EU.
"But in general, I think that the EC report will sound more and more indifferent. No one will punish us or dramatise, we will not progress until we offer more. This is a sufficient punishment because our goal is full membership. I think that EU approach is good for our maturing and turning to our own capacities."
She reminds that IA representatives are members of many working groups working on reforms, and that all these groups have in common vigorous denial of problems and investing more energy in making excuses than looking for solutions to solve problems.
"That is an environment in which the reform of the judiciary, the reform of anti-corruption institutions, the reform of public administration and public finances are mostly blocked. Reforms are waiting for the time when the real state of affairs will be seen more honestly. The Prosecution works slowly and reluctantly, with weak will and weak capacities, while anti-corruption institutions produce statistics that do not improve anything and mostly do not produce any value.
Worrying situation in media sphere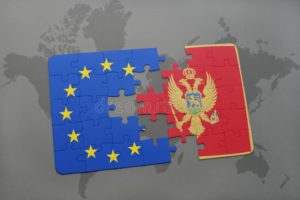 Bajramspahić warns that the situation in the media in Montenegro is worrying and recognises at least three levels of issues: first and foremost – unresolved attacks on journalists and property of media, labelling of journalists and, as we saw earlier this year, arrests.
She reminds that freedom of media is precondition for establishment of democracy and that creating an environment in which the media can work peacefully is Government's job. ''The second part of the problem is the financing of the media and labor rights and earnings of journalists, which is also a condition so that media can fulfil their role and serve society in the right way. Which brings us to the third issue – quality and professionalism. It seems to me that ethical ideals in the media have faded and that more than ever we can notice one-sidedness, shallowness, exclusivity, propaganda, cheering and tabloidisation of media. Except only few media, it is devastating that the gap between the reporting of different media is as deep as if they are reporting on completely different countries. This is not about pluralism, but about irresponsibility for what is said and the consequences.''
While the state has an obligation regarding the first and second mentioned issue, media self-regulation must play a crucial role in solving the third issue, because the journalistic profession must impose high standards on itself and defend them. ''Anyone's interface in this regard would be subject of abuse and restriction of freedom and independence. I think it would be good to give rewards to texts based on evidence and facts, and analytically point out the texts that degrade journalism as one of the pillars of a free society.''
She believes that instead of following the lowest impulses of readers and viewers, we should take a harder path and raise public awareness to achieve that citizens reject content that trivializes reality or fuels hate speech and alignment in trenches.
''Prohibition and suffocation of such media is not the right way to do that, because there will always appear new media with such content, but knowledge, arguments, facts and dialogue must become priority. It's often more boring in our society, but we must achieve that this is more valued.''
Women have potential to improve the quality of public dialogue
Speaking of results of the Parliament's work, Bajramspahić assessed that the entire Parliament's convocation since 2016-2020 is wasted.
''We should not let this happen again. Parliament must be strong and active, not only a chatterbox, but a initiator of concrete changes in society. I deeply believe that Montenegro must be changed through amendments, amendment by amendment and by application of the laws, and not with the populist tirades that we had a chance to hear. Such practices will continue if we do not oppose them.'' She adds that, although there is no progress if we speak about percentage, the characteristic of these elections is that women in all parties have stood out more strongly as policy makers in their parties.
She said that it is very important that women have the potential to improve the level and quality of public dialogue, which decreased to the bottom during last and this year.
Bajramspahić thinks that it would be good for the female MP's in new convocation of the Parliament to find way to maintain communication between the parties and to ''push'' good parliamentary initiatives that are of great interest for all citizens, regardless of the fact that there are huge differences between them.
Dialogue is always legitimate, and transparent agreement is not immoral thing. We must encourage cooperation instead of fanaticism, exclusivity, satanisation of dissidents, because this is primitive.
We will never be able to agree on some issues, but it is not reasonable that everything is paralysed in the meantime, instead, they should be working in the interest of the whole community. Parliament must engage in European integrations and contribute to the progress of the negotiations.''
Arrests for posting Facebook status are deeply wrong
Bajramspahić believes that the arrests due to the statuses that someone posted on Facebook are deeply wrong, even if they were recognised by the Law, ''and they are not, they are even contrary to European and international standards.'' ''No one should be arrested in a democratic society because of freedom of speech and opinion, which are not call for violence and are not hate speech. Critical opinions are a precondition for healthy society. Even if it is an insult and unpleasant harassment, it is necessary to take a harder and more tolerant path. Where culture and education have failed, imprisonment is not the answer.''
The text was originally published in the daily newspaper Vijesti.