Political parties fight for meritocracy only when they are in opposition, alongside the media and the NGO sector. Undue political interference in public administration recruitment is legalised because there is no guarantee that the best candidates will be chosen.
Milena Muk, a public policy researcher at the Institute Alternative (IA), was a guest on the political talk-show "Naglas" on RTCG. She stated that the law has provided ample room for political interference in the process of appointing members of the boards of directors of public companies. Muk added that this happens due to the fact that the Law on Business Organisations has not defined any specific requirements that appointed board members are obliged to meet.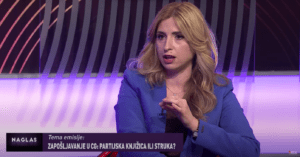 "We notice that political parties and politicians criticise certain appointments only when they are in the opposition. It is undeniable that the opposition has its right to criticise, but it is also true that advocacy for meritocracy is reserved for political parties only when they are in opposition, as well as for the media and the non-governmental sector. When it comes to appointments in Podgorica, we must distinguish that some of them are a kind of engagement that does not represent employment in the legal sense, considering that public sector employment is regulated differently, far from perfect but better regulated", Muk stated.
Procedures, she added, are often superficial. There is no legal obligation in any part of the public sector to select and appoint the best candidate, even at the positions that require prior public job advertisement.
Highlighting the complexity of the issue, Muk explained that there is a certain confusion in public, as different functions and job positions are discussed using the same categories, although they are subject to different legal acts. IA's Map of risk of inappropriate influences and corruption in public sector employment has shown that even state authorities are not doing well in order to be marked "green". That means that there are no guarantees for minimal competitiveness or prevention of inappropriate political influences, as there is no guarantee that the testing commissions will not be composed of politically exposed individuals.
Muk added that politicians should not promise public job competitions, as it is a sign that the employment system in the public sector is deeply flawed. She emphasised that it is common for all political parties to try to divert attention from this important issue.
The show also featured Dragan Koprivica, Alija Košuta, and Milan Radović. You can watch it at the following link.